Let's play BINGO – Well Together Now style. No sitting allowed! We are putting an active spin on this classic game.
Directions:
Complete a single board as a family or use different boards to play versus each other.
Decide on a pattern:
Any five in a row
Diagonal
Cover All
Four corners
Column
Row
Hollow square
Make up your own!
Shuffle the calling cards. Choose one person to call or take turns pulling cards from the deck. All participants perform the listed exercise, but only the player with a match marks their BINGO board. Keep pulling cards and performing exercises until one player has matched and marked the chosen pattern and yells, "BINGO!"
To make this a multi-use game, be creative with what you use as "chips" to mark your boards (i.e., Legos, coins, other random game pieces, buttons, small scraps of paper). This would also be a fun virtual activity for friends to play on FaceTime or a platform such as Zoom, where one person pulls the cards, but they each have their own board.
Use the buttons below to download and print the set of boards and calling cards. Three boards and one master card set included in all.
---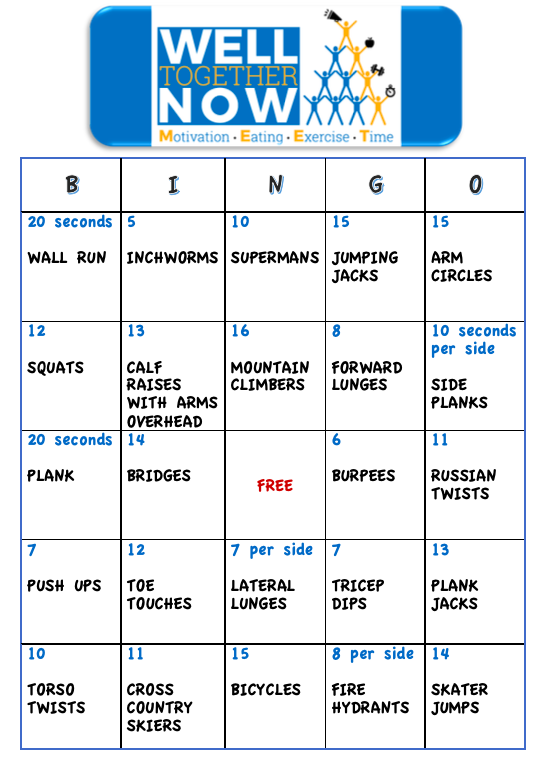 The calling cards (as seen below) should be printed, cut, and shuffled before play. There are 75 cards total (a match for each space on the three bingo boards).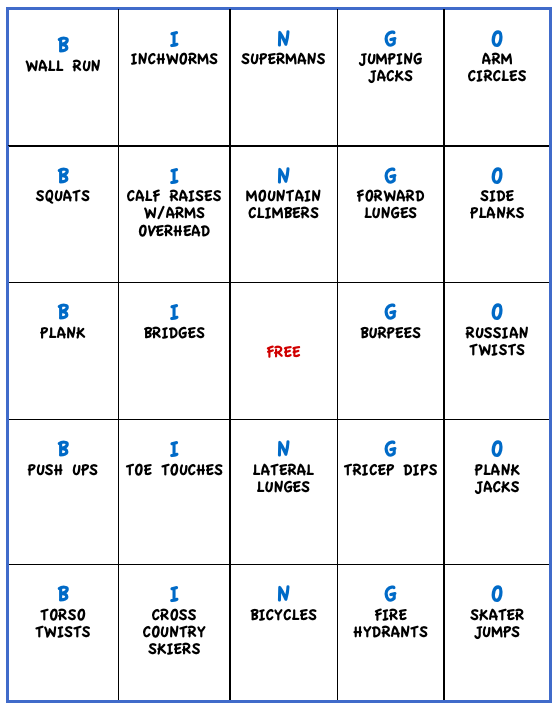 ---
In this time of safe social distancing, let's stay socially connected through show and tell. Comment below and tell us about your family fitness adventures! Or send a photo of your Family Fitness BINGO games to d[email protected] and we will add them to this blog post.
Click the SUBSCRIBE button below, and we'll send WTN updates directly to your inbox.