JUNE 22, 2019
"Pride is for everyone."
"Love is love."
"Be you."
"Love conquers hate."
"Trans is beautiful."
"Show your pride."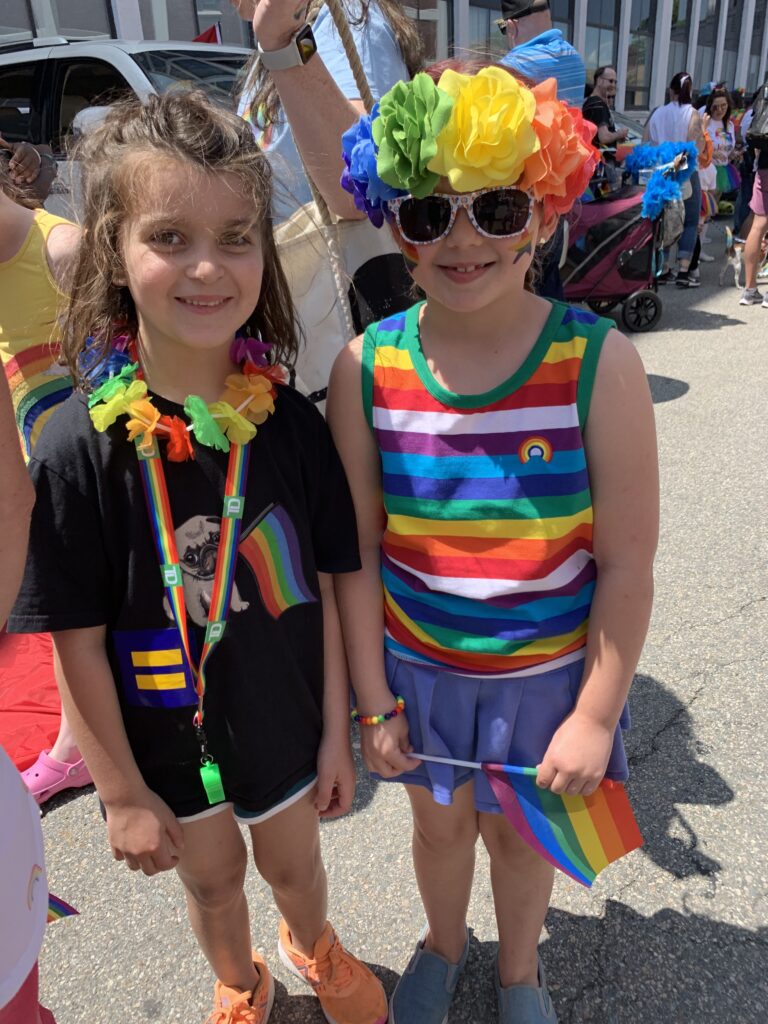 These were the messages pumped into the world by the hundreds who marched and gathered for the 2019 North Shore Pride Parade and Festival in Salem, MA last Saturday, their voices saturating the air with inclusive energy and positive spirit.
My wife, daughter, and I have attended Pride in Salem for the past four years. This was the first time we organized a group and marched in the parade.
Marblehead Marchers: Kids for Kindness, Teachers for Tolerance was born from teachers and parents in the Marblehead community as a way to embrace diversity and bring visibility to the critical issue of equality. Collaboratively, we invited participation through social media, flyers, and a piece written in the Marblehead Reporter. Our inaugural march turned out to be a great success with more than 30 people behind our banner.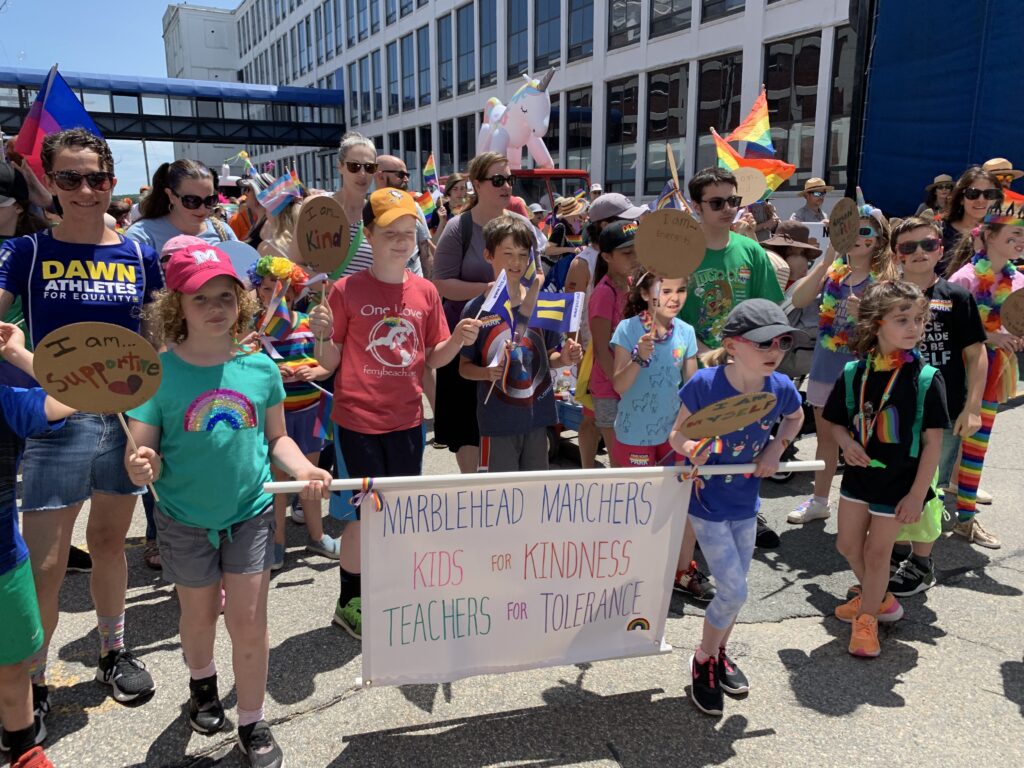 The weather was warm and sunny. Despite a strong headwind along much of the route, our mighty marchers, wrapped in pride from head to toe, paraded and spread smiles and cheer with every step. Parents, teachers, and community members marched alongside our kids who emitted waves of kindness as they carried the banner for all to see.
Photo Credit: Creative Collective
This year marks the 50th anniversary of the Stonewall Riots, and the theme was "Looking Back, Marching Forward." In recognition of this anniversary, we wanted our props to reflect that mantra. As such, we focused on the concept of reflection with a two-sided, hand-held panel.
One side had a reflective surface to represent a mirror. The mirror asks us to consider how we see ourselves and what we project to others, questioning: Who am I? What do you see when you look at me? How do I see myself? Who has the power to draft that definition? What do I want to show to the world?
In response, the opposite side of our prop issued a reflective prompt. Our marchers were asked to use one word to describe themselves. To that mirror, we assert with confidence, "As the author of my life, only I should assign my labels. This is WHO I AM." The answers were perfection: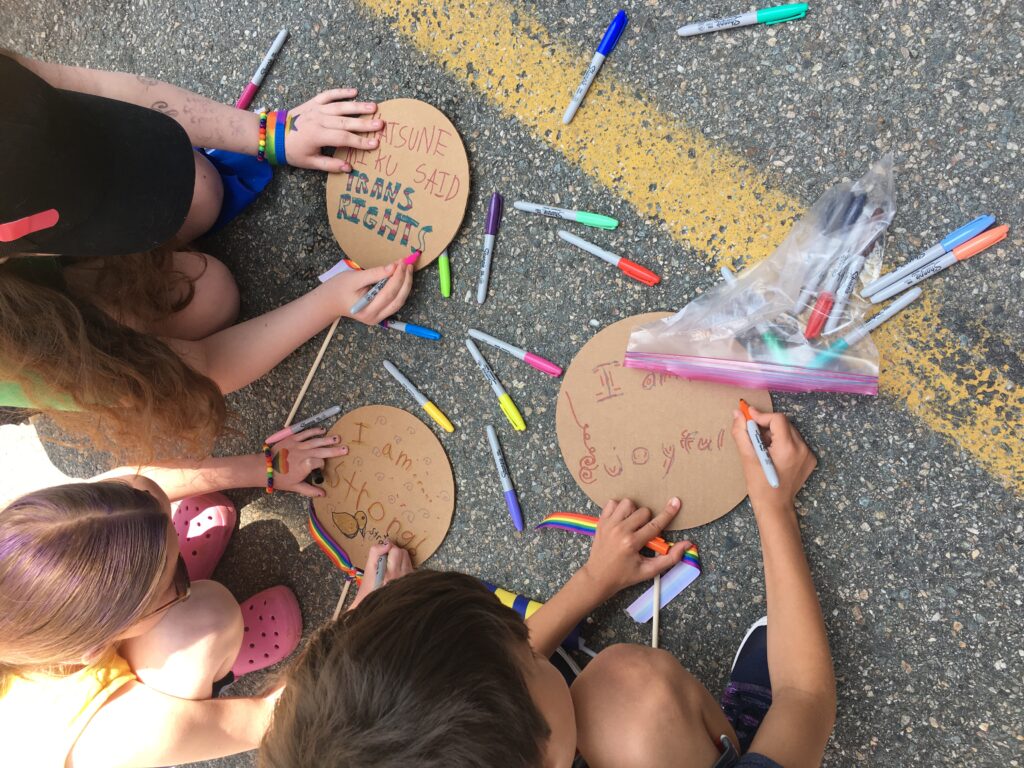 I am KIND.
I am CREATIVE.
I am ENERGETIC.
I am SUPPORTIVE.
I am MYSELF.
I am LOYAL.
I am RESILIENT.
Through the streets and onto the Salem Common, these were our messages with an overarching theme of acceptance. When you read or hear these words, it's hard to believe that opposition exists, but it does, and it is dangerous.
June is Pride Month, and we celebrate and feel the collective power of our community. Still, affecting actual change is bigger than June; every month, and every day for that matter, we must continue to show up and insist that our elected politicians do the same. Pride is for everyone every day.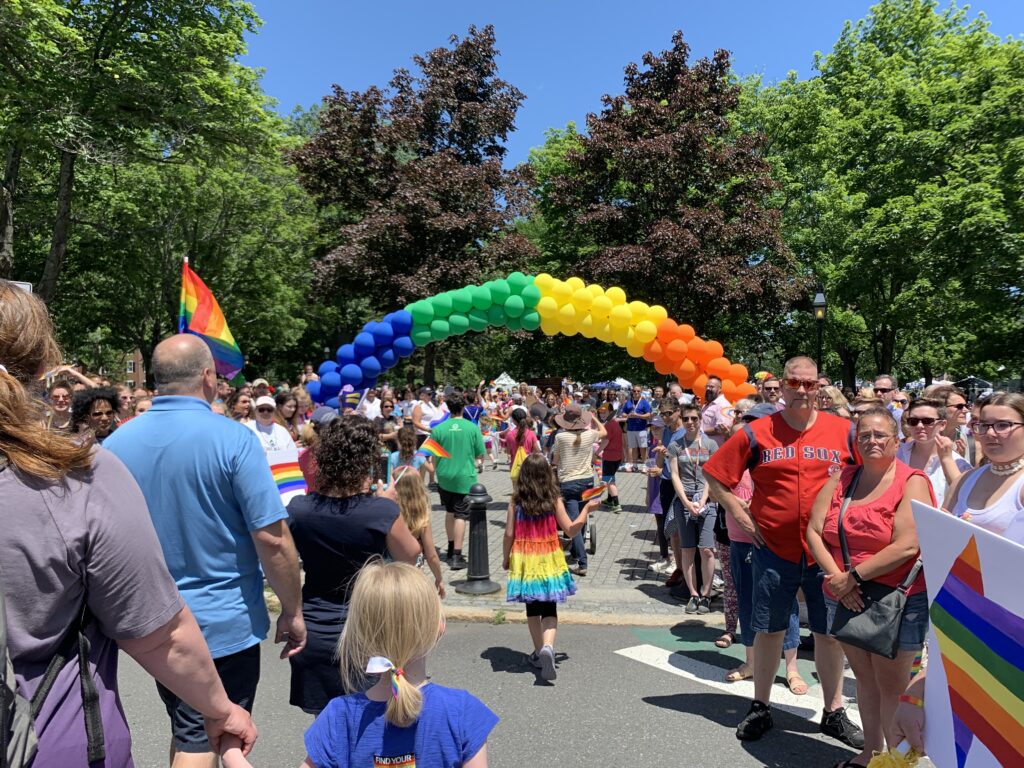 When all of the confetti has settled and the crowds have dispersed, fundamental human rights remain at stake. We march forward, but many threaten to hold us back. Our government has the power to subdue this threat by passing The Equality Act.
Keep showing up. Turn up the volume. Get involved. Arm yourself with knowledge and share the truth. Remember, exclusion and equity cannot coexist. This is essential:
Equality – No more. No Less.