I set my "A" goal in March 2018: to run the NYC Marathon on November 4, 2018, in 3:20. At this point, it was too early to begin specialized workouts for a race that was almost eight months away. However, it was time to get serious about building my foundation and strength.
As previously mentioned, I had run two marathons before this: one ending in ITBS, which required me to stop running for a while. The other ended with a Boston Qualifier of 3:38, but not without feeling like slow death and missing my "A" goal of 3:30. That being said, my "B" goal for NYC was a PR. However, soon after I began training, I realized that my heart was set on that 3:20, and I found it hard to accept that my "B" goal existed.
I set my sights on a half marathon in May to help establish a baseline and give me a focal point for my training in the months that followed. Being a run coach, I decided that I would write my programming for this goal, as well as for the marathon. I targeted a 7 min/mile pace at the Run To Remember 13.1 in Boston on May 26, 2018. However, much like the winter last year, this race day turned out to be a nasty one. This was partially due to weather (25mph winds) and partially due to poor execution of nutrition/hydration pre-race and during the race. (I spent the day before my race at the MIAA Championships with one of my student-athletes. The temps were in the 80's, and I was baking and on my feet more than I should have been. Then, during the race, I waited too long to hydrate and paid the ugly price after mile 8.) I landed a disappointing 1:35 (approx. 7:10 pace).
Refocusing, I decided that this didn't discount my goal for NYC, and I began to draft the skeleton for my training plan to start in June. As I opened the calendar and penciled out my phases, I felt a sense of uncertainty. I realized that coaching yourself is much more complicated than coaching others, or at least it is for me. I guess it is due to the emotional attachment to the goal. I also tend to engage in some serious self-doubt, so I wondered if I would push myself hard enough to make this a reality. After running through phase one, I was feeling okay, but not confident. In phase two, I added in track workouts through my membership with Wicked Running Club, and this is where I met Coach Fernando Braz.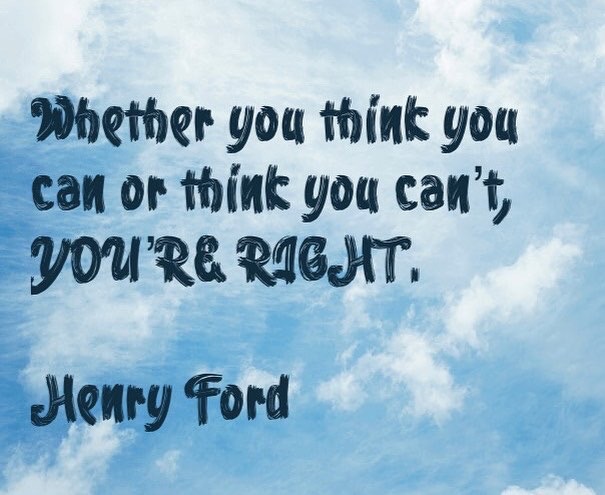 After a few sessions on the track, Coach Braz mentioned that we should notify him if we were training for a fall marathon. This would require specific workouts versus regular weekly sessions. Following a brief chat on a hot summer evening, I decided it would be wise to seek his coaching and eliminate the stress of having to create my plan.
When I opened my email to find my first week from Coach Braz, I knew instantly that this was going to be a different training experience. Of course, this excited me, because it was a change; it was also a relief to remove that burden of planning from my shoulders and be able to focus solely on the execution.
This plan had me running six days a week, and the total mileage wasn't too aggressive. Track sessions and tempos remained staples. The most significant difference was in pacing for my long runs and intervals.
Summer 2018 was hot and humid, even more so than usual. However, once acclimated, my body tends to thrive more in the heat than in the cold. So, this was not insurmountable.
Tuesday track had me packing ice and cold-soaked washcloths in my insulated tote. Workouts were long, and I was lucky to work with Coach Pete who timed my intervals, kept me consistent, and provided helpful feedback every week. By the final weeks, I was running marathon pace, sandwiched between faster intervals, and it felt like a comfortable pace to maintain. I was recovering quickly between repeats and able to hit all of my times or a touch faster during workouts. As Coach Pete once said to me, "The track doesn't lie." My fitness was evident, and this undoubtedly boosted my confidence as the training continued.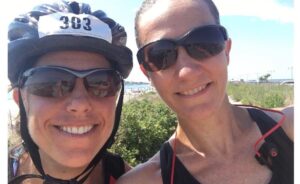 Most long runs were progressions as 3-5 mile segments with the pace quickening to marathon goal pace and beyond. While I pushed through the paces, my wife deserved much of the credit for encouraging my persistence. She rode almost every single long run on her bike, where she carried my fuel, hydration and cooling cloths. She also watched me break down and cry on more than one occasion when I felt like I couldn't get it done. Amazingly, she could see me break down mentally before I even knew I was starting to unravel. Her words were specific and straightforward. She told me when it was in my head. She told me that I looked fine on the outside and that my form was holding steady. Sometimes she would say, "Breathe and focus." That was enough. Other times, I wanted to tell her to shut up (and I probably did say some harsh words when I let the pain do the talking).
There is a certain point in marathon training when your body feels like it is at max capacity. It is in a constant state of breaking down and repairing. When I am training for a PR or to find my "redline," and riding that line of fitness versus competition shape, I continuously assess my aches and pains, asking, "Is this part of the game, or is this injurious?" Even more, now that I am over 40, I spend extra hours paying attention to my recovery with stretching, rolling, icing, soaking, napping, and nourishment. I also have a stellar physical therapist, Sara Thatcher of Body Tuning, whose healing ways were a weekly essential by the final phase of this programming (both physically and mentally).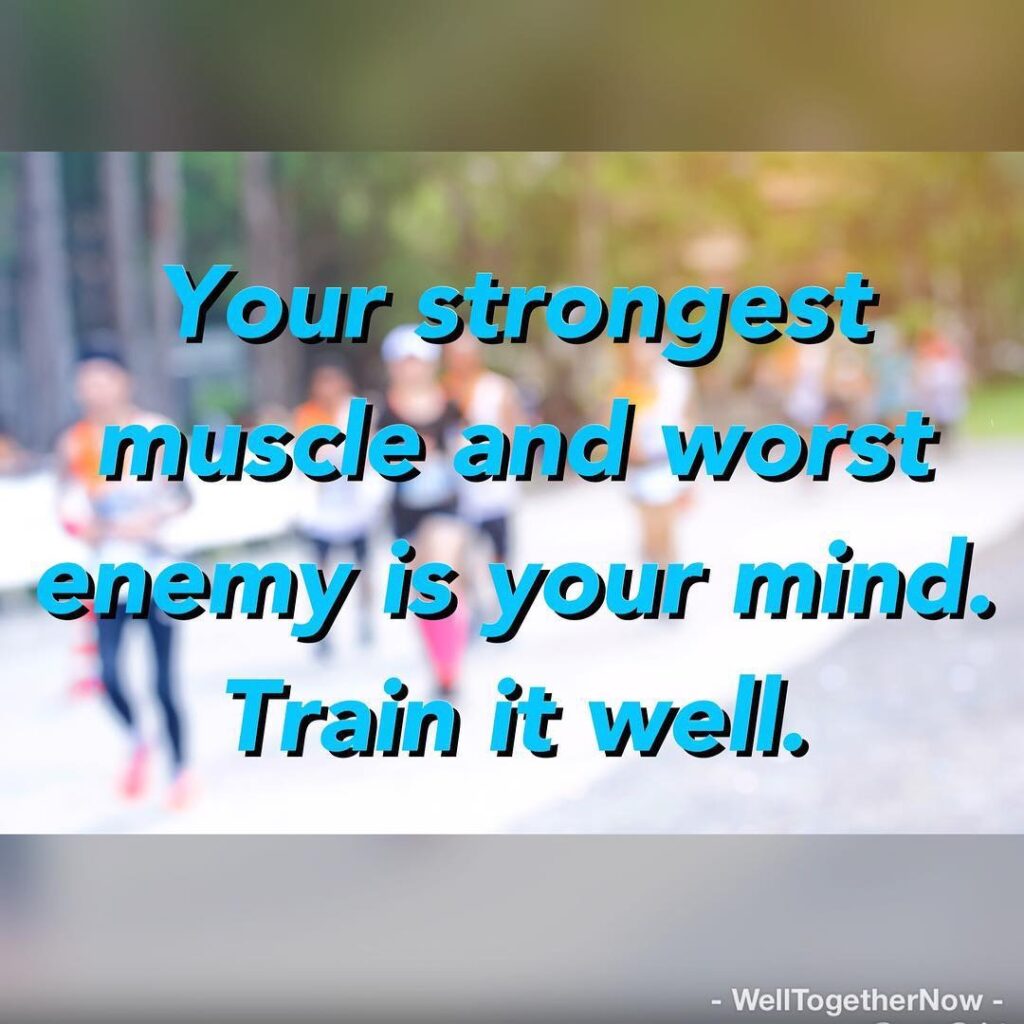 Still, in addition to the general aches and pains of training at this level, I am plagued by anxiety and self-doubt; that monster was with me all summer and fall. Every week I opened my training plan from Coach Braz and heard the monster whisper that I wouldn't be able to get it done. However, I persisted. I would never have had the confidence in my ability to write those workouts for myself. Still, I persevered, because they were right for me. As I ran into headwinds, felt cumulative fatigue, experimented (and sometimes failed) with nutrition and hydration, it was the mental battle that seemed the most challenging to overcome. The marathon is a long one and required me to spend a good deal of time alone with myself, inside of my mind and exercising my ability to control my thoughts. This takes a lot out of me, but in competition (even if it is with yourself), it is necessary to train mental endurance as strictly as physical endurance. One day, one mile, and sometimes one minute at a time, I got the job done.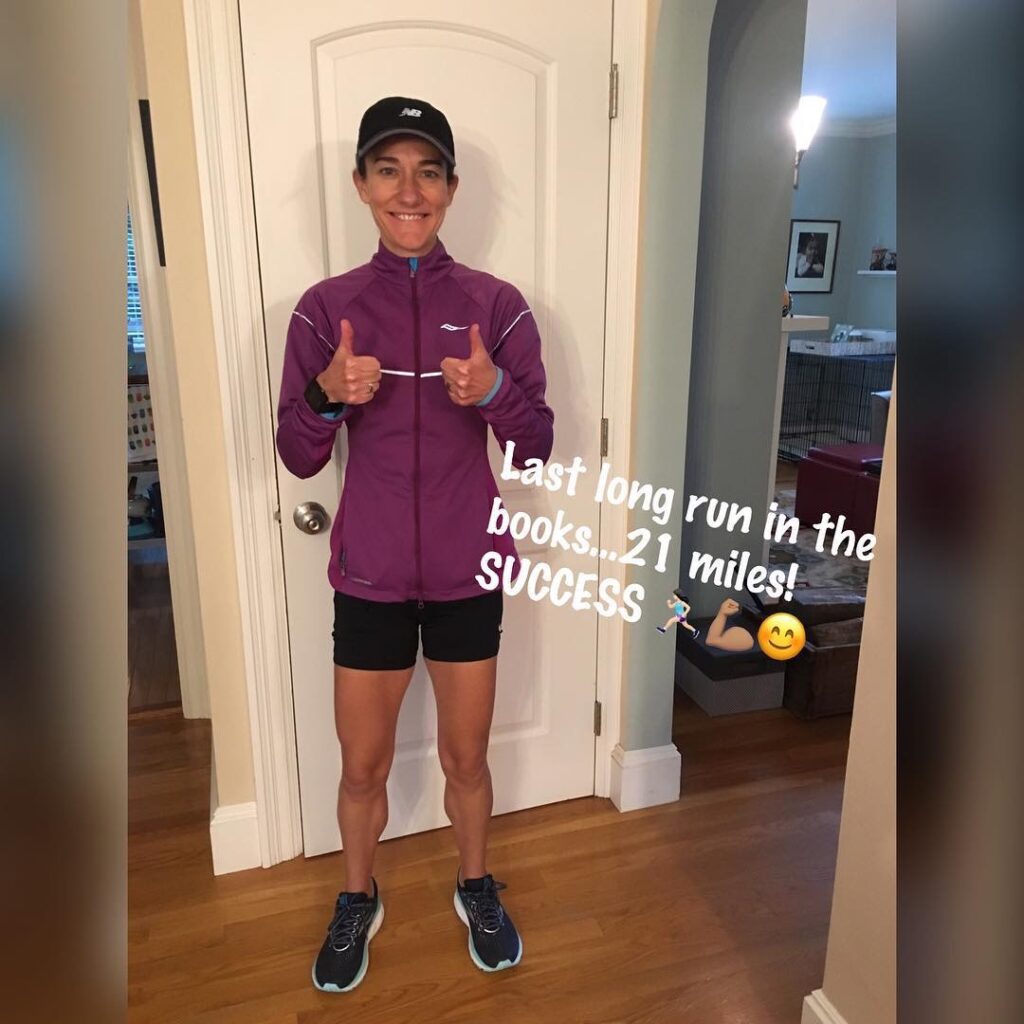 In hindsight, I would say that this training period was an absolute success on many levels. My team of supporters was knowledgeable, committed, positive, and believed in my ability to reach this goal. Coach Braz's programming, fine-tuned my body for a marathon at a specific pace. Every workout (specifically those quality days) was strategically paced to hone my mental and physical strength and endurance to tackle a very specific 26.2. My race experience was so positive that I came to believe that there is more inside of me than 3:18. What did that feel like on race day? That is for the chapters to follow. Stay tuned!